Violent protests erupted outside Kiev's parliament building on Tuesday as the government debated a controversial bill to reintegrate the Russian-occupied Donbas region with the rest of the country.
As the first parliamentary session of the year got underway, at least one policeman was injured and several protesters detained when the scuffles broke out in the Ukrainian capital.
Activists demanding that the reintegration bill be approved burnt the Russian flag and set tyres on fire as they called on the Ukrainian government to officially recognise Russia as an aggressor state.
Read more
Riot police attempted to control crowds which had gathered at a camp of supporters of pro-European Ukrainian opposition figure Mikheil Saakashvili, who is also the former president of Georgia.
But officers said the protesters used pepper spray and pelted the police with stones and tyres. 
"The situation near the Rada is now under control," Kiev Police said later, adding that local fire fighters had extinguished the burning tyres.
The protesters were led by Semyon Semyonchenko, the former commander of a volunteer battalion in eastern Ukraine suspected of human rights violations, Reuters reported.
Mr Semyonchenko and his supporters have criticised the new law as being too lenient on separatist leaders.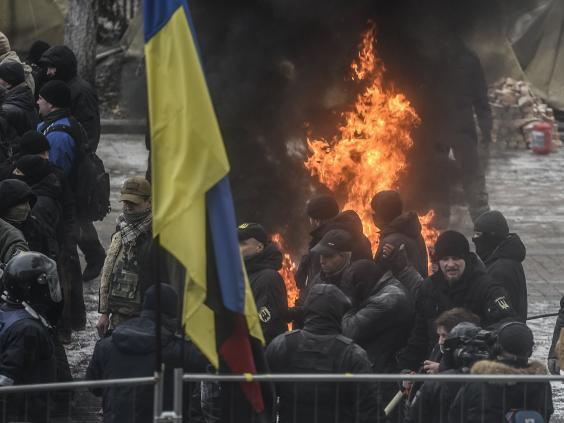 Protesters clash with police during their rally in front of the Parliament building in Kiev (EPA)
Russian News agency Tass reported that despite the heavy police presence Mr Semyonchenko is not planning to put an end to the protest encampment outside the Rada.
The Kremlin earlier denounced the reintegration bill as "unacceptable" saying the document goes against the Minsk Protocol – an agreement to halt the fighting in the Donbass region.
"From a purely legal point of view, such a formula cannot be acceptable for us, neither de-jure nor de-facto," Kremlin spokesman Dmitry Peskov said last week.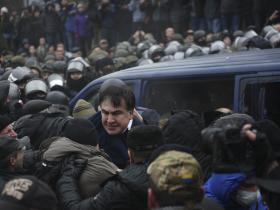 >
Former Georgian President says he is trying to save Ukraine
"It is unacceptable. From the legal point of view it contradicts the letter and the spirit of the Minsk agreements." 
A final vote on the bill still appears to be some way off due to the large number of amendments parliament must debate.
As the session closed at 6pm on Tuesday politicians had considered 482 of 675 total amendments, the English language paper the >Kyiv Post reported.
The bill also seeks to create a legal framework for Ukraine's armed forces in the contested region. If passed, all military operations in Donbas will be ultimately controlled by Kiev rather than the Security Service of Ukraine.
This is significant as it will redefine the key terms of the conflict. Until now, the conflict in Ukraine has been officially referred to as "The Anti-Terrorist Operation". If the bill is passed, then Ukraine will openly refer to the regional conflict as "Russian armed aggression", according to lawyers quoted by the Kyiv Post.
World news in pictures
World news in pictures
1/46

17 January 2018

Pro-democracy activists Raphael Wong and Joshua Wong arrive at Lai Chi Kok Reception Centre after they were jailed on protest related charges following their sentencing at the High Court in Hong Kong

AFP/Getty

2/46

16 January 2018

Skyscrapers Oriental Pearl Tower and Jin Mao Tower (L) are seen from the Shanghai World Financial Center on a hazy day in the financial district of Pudong in Shanghai, China.

Reuters

3/46

15 January 2018

Martin Luther King III, US Secretary of the Interior and others wait to place a wreath during an event at the Martin Luther King Memorial on the National Mall.

AFP/Getty

4/46

14 January 2018

A boy stands with women loyal to the Houthi movement during a gathering held to show their support to the movement in Sanaa, Yemen.

Reuters

5/46

13 January 2018

Diego Martin Duplessis of Argentina drives his Honda during the 2018 Peru-Bolivia-Argentina Dakar rally, 40th edition stage seven, La Paz to Uyuni.

Reuters

6/46

12 January 2018

Angela Merkel speaks during a joint press conference after exploratory talks in Berlin. According to reports, the leaders of CDU, CSU and SPD parties after night-long talks agreed on a plan for formal coalition negotiations.

EPA

7/46

11 January 2018

A Pakistani girl holds a picture of Zainab Ansari, an 8-year-old girl who was raped and kidnapped in Kasur, during a protest in Karachi, Pakistan. Anees Ansari, Zainab's father, accused the police of being slow to respond when his daughter went missing in the eastern Punjab province. Two people were killed and three others were wounded in clashes between angry Kasur residents and police after protesters enraged over her death attacked a police station in the city.

AP

8/46

10 January 2018

India's Border Security Force (BSF) 'Daredevils' women motorcycle riders perform during a rehearsal for the Republic Day parade on a cold winter morning in New Delhi.

Reuters

9/46

9 January 2018

Members of the South Korea delegation (R) shake hands with members of the North Korean delegation (L) during their meeting at the border truce village of Panmunjom in the Demilitarized Zone dividing the two Koreas. North and South Korea began their first official talks in more than two years, focusing on the forthcoming Winter Olympics after months of tensions over Pyongyang's nuclear weapons programme.

AFP/Getty

10/46

8 January 2018

Migrants in a dinghy are rescued by Libyan coast guards off the coast of Garabulli, east of Tripoli.

Reuters

11/46

7 January 2018

French President Emmanuel Macron observes a minute of silence in front of the plaque commemorating late police officer Ahmed Merabet to mark the third anniversary of the Charlie Hebdo terrorist attack, in Paris.

Rex

12/46

6 January 2018

Nicolaos Solis from Greece kisses the wooden cross which was thrown into the waters by Ecumenical Patriarch Bartholomew I, during the Epiphany ceremony to bless the waters at the Golden Horn in Istanbul.

AP

13/46

5 January 2018

Women mourn the death of a family member following a landslide in Kinshasa. Thirty-seven people died overnight when torrential rain and mudslides swept though shanty homes.

AFP/Getty

14/46

4 January 2018

Mourners carry the body of Palestinian Mosab al-Tamimi, 17, who was shot and killed by Israeli troops, during his funeral near the West Bank city of Ramallah .

Reuters

15/46

3 January 2018

People take part in pro-government rallies, Iran.

Tasnim News Agency via Reuters

16/46

2 January 2018

Indonesian bus passengers watch as Mount Sinabung spews thick smoke in Karo, North Sumatra.

AFP/Getty

17/46

1 January 2018

People take part in the traditional New Year's Day swim in Scheveningen, Netherlands.

Rex

18/46

31 December 2017

Fireworks explode over Sydney Harbour during New Year's Eve celebrations.

EPA

19/46

30 December 2017

An Indian muslim lifts a stool with a metal rod pierced through his cheeks to commemorate the anniversary of the death of Rafai Papa Miyan Sai at the Shah-E-Alam Dargah shrine in Ahmedabad.

AFP/Getty

20/46

29 December 2017

A New York apartment fire killed at least 12 people, including a baby, with four more critically injured. Mayor Bill de Blasio said at a press conference from the scene that 'it is the worst fire tragedy we have seen in this city in at least a quarter century.'

Reuters

21/46

28 December 2017

Afghan women mourn inside a hospital compound after a suicide attack in Kabul, Afghanistan.

Reuters

22/46

27 December 2017

Pope Francis greets newlyweds during his weekly general audience at Aula Paolo VI in The Vatican.

AFP/Getty

23/46

26 December 2017

Rohingya refugees walk next to a pond in the early morning at the Balukhali refugee camp near Cox's Bazar, Bangladesh.

Reuters

24/46

25 December 2017

Members of ice swimming club "Berliner Seehunde" (Berlin Seals) take a dip in the Orankesee lake in Berlin as part of their traditional Christmas ice swimming session, in Berlin, Germany.

Reuters

25/46

24 December 2017

Mourners carry the body of 19-year-old Mohamed Sami al-Dahdouh, a Palestinian youth from Jabalia who was killed in clashes with Israeli forces east of Gaza City.

AFP/Getty

26/46

23 December 2017

Policemen evacuate a baby after the Cagayan River swelled caused by heavy rains brought by Tropical Storm Tembin. People have died and others are missing as the storm struck the southern Philippines unleashing floods and landslides across a region of 20 million people.

AFP/Getty

27/46

22 December 2017

Carles Puigdemont gives a thumbs up after the Catalonia Regional Election results.

Rex

28/46

21 December 2017

A white SUV sits in the middle of the road as police and emergency personnel work at the scene of where it ran over pedestrians in Flinders Street in Melbourne.

AFP/Getty

29/46

20 December 2017

This combination of pictures shows Syrians covering one eye with their hands, in the rebel-held town of Douma, as part of a campaign in solidarity with a baby boy, Karim Abdallah, who lost an eye, as well as his mother, in government shelling on the nearby town of Hammouria.

AFP/Getty Images

30/46

19 December 2017

South Korean and U.S. Marines take part in a winter military drill in Pyeongchang, South Korea.

REUTERS

31/46

18 December 2017

Belgian police officers stand guard outside the trial of Salah Abdeslam, one of the suspects in the 2015 Islamic State attacks in Paris, at a courthouse in Brussels, Belgium.

Reuters

32/46

17 December 2017

Members of the International Space Station expedition 54/55, Roscosmos cosmonaut Anton Shkaplerov (C), NASA astronaut Scott Tingle (R) and Norishige Kanai (L) of the Japan Aerospace Exploration Agency (JAXA) during the send-off ceremony after checking their space suits before the launch of the Soyuz MS-07 spacecraft at the Baikonur cosmodrome, in Kazakhstan.

Reuters

33/46

16 December 2017

The former wife of the late South African President Nelson Mandela, Winnie Mandela (R), and the candidate for the African National Congress presidency and ex-wife of the incumbent South African president, Nkosazana Dlamini-Zuma greet each other as they attend the 54th ANC National Conference at the NASREC Expo Centre in Johannesburg on December 16, 2017. Thousands of delegates from South Africa's ANC party gathered on December 16, 2017 for a five-day meeting to elect their new leader in a divisive race seen as a pivotal moment in the country's post-apartheid history. he winner will be well placed to be the next president, but the ANC has lost much popularity since Nelson Mandela led it to power in the euphoric 1994 election that marked the end of white-minority rule.

AFP/Getty Images

34/46

15 December 2017

Palestinian protesters wave the national flag during clashes with Israeli security forces near the border fence with Israel, east of Gaza City as demonstrations continue over US President Donald Trump's declaration of Jerusalem as Israel's capital.

AFP/Getty

35/46

14 December 2017

Hamas supporters take part in a rally marking the 30th anniversary of the founding of the Islamist movement, in Gaza City.

AFP/Getty Images

36/46

13 December 2017

Democratic candidate for US Senate Doug Jones thanks supporters as he holds his wife Louise's hand.

AP

37/46

12 December 2017

Ultra-Orthodox Jewish men gather during the funeral ceremony of prominent spiritual leader Rabbi Aharon Yehuda Leib Shteinman, who died on Tuesday at the age of 104, in Bnei Brak near Tel Aviv, Israel.

REUTERS

38/46

11 December 2017

A Palestinian protester kicks a flaming tire during clashes with Israeli forces in the West Bank city of Ramallah.

AFP/Getty

39/46

10 December 2017

Demonstrators set US and Israeli flags on fire during a protest against Donald Trump's recognition of Jerusalem as Israel's capital, in Istanbul.

REUTERS

40/46

9 December 2017

People gather to watch the bikers' procession during the funeral ceremony in tribute to late French singer Johnny Hallyday in Paris.

EPA

41/46

8 December 2017

A Palestinian protester uses a sling to hurl stones towards Israeli troops .

REUTERS

42/46

7 December 2017

Firefighters monitor a section of the Thomas Fire along the 101 freeway, north of Ventura, California.

Getty Images

43/46

6 December 2017

Palestinians burn an Israeli and a U.S. flag during a protest against the U.S. intention to move its embassy to Jerusalem and to recognize the city of Jerusalem as the capital of Israel, in Gaza City.

Reuters

44/46

5 December 2017

Former Georgian President, Mikheil Saakashvili, flashes a victory sign after he was freed by his supporters in Kiev.

REUTERS

45/46

4 December 2017

A man exercises in a park on a winter morning in Kolkata, India.

REUTERS

46/46

3 December 2017

A supporter of Salvador Nasralla, presidential candidate for the Opposition Alliance Against the Dictatorship, puts a balloon on the shield of a soldier in a protest while the country is still mired in chaos over a contested presidential election in Tegucigalpa, Honduras.

REUTERS
The conflict between the Russian-backed separatists and Ukrainian government troops has been raging since 2014, killing more than 10,000 people.

saya bangga karena kunjungan Anda di blog ini dan membaca tulisan Fire Erupts At Law Ministry's Building. Semoga Bermanfaat dan Selamat membaca berita ini :)

Kembali lagi bersama AKU dalam laporan berita yang kami terima, berita kali ini adalah Fire Erupts At Law Ministry's Building.